You are hereJune 21 Fire Training & Meeting
June 21 Fire Training & Meeting
---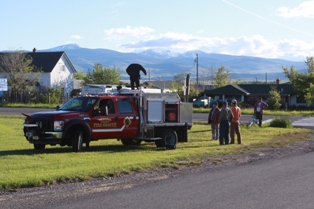 On Monday Night, June 21
st
, the White Sulphur Springs V.F.D. and Meagher County Fire Dept. held their monthly meeting. The four new volunteers from Grassy Mountain, who completed the Wildland Basic Course this last weekend, were also invited to the meeting. Prior to the business meeting, fire volunteers trained on fire engines, 114, 119 and DSL 413.
Engine 114 is the only C.A.F.S. unit the county has, and one of the first engines to respond to most fires in the city and county. There were still fire personnel who had not trained on this truck. 119 is the new military 5 ton tender, which was just put into service with the county. DSL 338 is the primary engine for Grassy Mountain, but it is in town being serviced. Grassy Mountain Fire brought in engine DSL 413, the truck they are using until DSL 338 is returned. This was a great training for the volunteers, not only to train with the smaller brush trucks, but also with a tender which is used to fill the smaller trucks with water.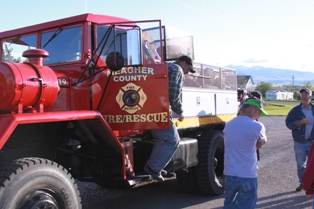 Discussion during the business meeting consisted of plans to conduct field training, using the engines in the Grassy Mountain area, and testing of the dry hydrant. It was suggested we contact Bill Galt and see if we could include some spring helicopter training as well.
The hottest debate was over the Fathers Day Pancake Breakfast and moving it to some other date. A poll has been set up and is located on the top right column of the web site, please give your input.